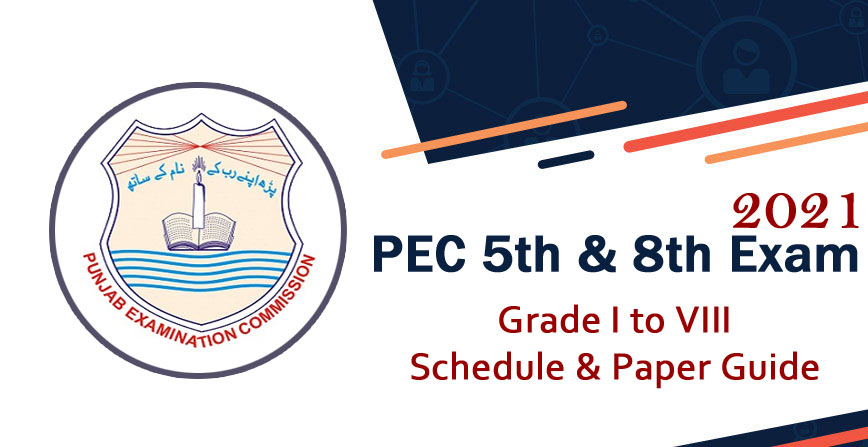 Punjab Education Commission (PEC) in their notification Dated: 16-02-2021 notified the schedule & SOPs for conducting School Based Assessment (SBA) exam from Grade I to VIII. According to the schedule SBA exams will be conducted according to following;
Conduct of SBA Exams for Grades I to VIII
From 18th May, 2021 to 31st May, 2021
Issuance of Report Cards by Schools
Before 10th June, 2021
SOPs for Conducting Exams:
Mode of assessment of the academic session 2021-21 is 50% weightage for Homework and 50% weightage of MCQ based paper.
Assessment for Grade I & II (English, Maths, General Knowledge) will be Oral and instruments will be provided by the PEC.
Item bank of 100 items per subject for Grade III to VIII of all core subjects (English, Maths, Science, Urdu, Computer Science, History & Geography and Islamiyat/Ethics) will be provided by PEC.
Assessment of remaining / optional subjects will be prepared and conducted by school itself.
Each MCQ paper will of 25 items having 2 marks for each item with duration of 60 minutes (in multiple sessions daily if needed) as per SOPs of Covid-19 issued by Govt. of Punjab.
Date sheet for SBA will be issued by the Head Teacher of the school as per above mentioned schedule.
Punjab Examination Commission will establish a Control Room at provincial level for coordination / facilitation of District Education Authorities.
Urdu Version of SOP's:
کلاس 1 سے کلاس 8 تک امتحانات 18 مئ سے 31 مئ تک سکولز میں ہوں گے۔
کلاس 1 اور 2 کا پیپر زبانی لیا جائے گا.
تمام کلاسز 3 سے 8 تک 50 نمبر کا پیپر MCQs طرز کا ہوگا جسمیں 25 MCQs اور ہر MCQکے 2 نمبر ہوں گے.
پیپر تمام لازمی مضامین کے لیے جائیں گے. جس کے ہر مضمون کے 100 سوالات کا ذخیرہ پنجاب ایگزامینیشن کمیشن دے گا. اور سکول خود سے 25 سوالات کا پیپر بنائے گا.
چھٹیوں کے کام کے 50 نمبرز ہیں. وہ بھی متعلقہ ٹیچر نمبر دے کر اور 50 نمبر پیپر کے جمع کر کے کل 100 نمبرز میں سے حاصل کردہ نمبرز بطور مضمون رزلٹ سکول ہیڈ ٹیچر کو جمع کرا دے گا.
سکول تمام سٹوڈنٹس کو 10 جون سے پہلے پہلے کو رزلٹ جاری کرے گا.
سکول ہیڈ تمام رزلٹس کو رزلٹ شیٹ میں بنا کر متعلقہ آفیسر بالا کو ارسال کر دے گا.
پنجاب ایگزامینیشن کمیشن سارے پراسس کو کنٹرول کرنے کے لیے ایک صوبائی سطح پر کنٹرول سیل قائم کرے گا.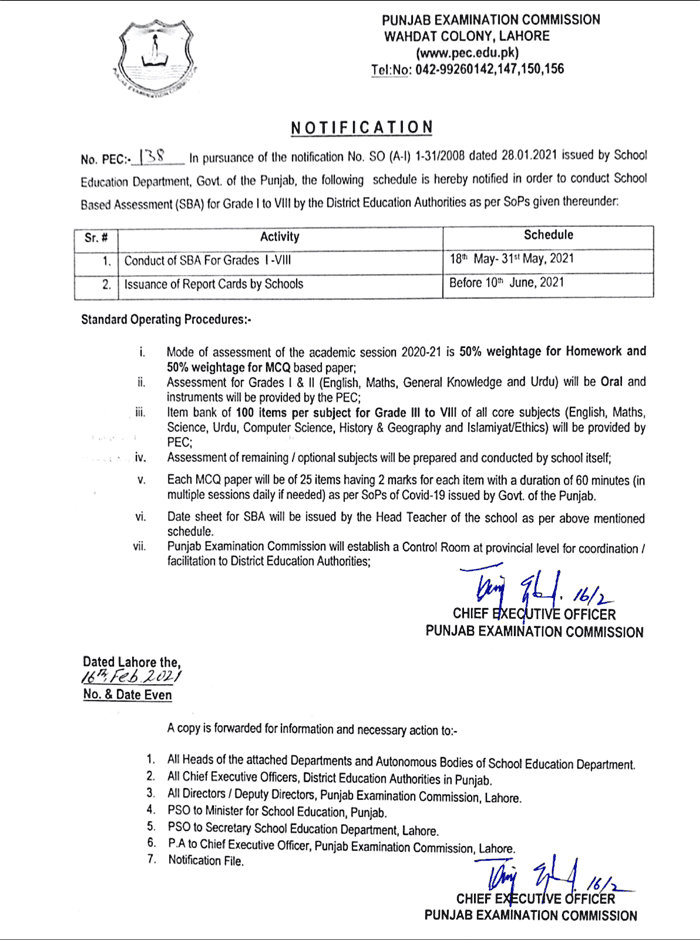 © 2021 Niazi TV – Education, News & Entertainment